Parable of the Good Samaritan
home | parable of the good Samaritan | apply for membership | contact us
In the Bible: Luke 10:25-37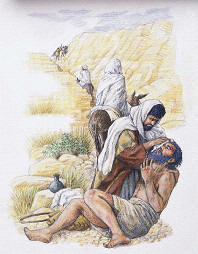 As Jesus was teaching a crowd of people, a certain expert in the laws of God stood up and challenged Jesus. He asked, "How do I inherit the kingdom of heaven?"

Jesus calmly replied, "What is written in the law? How do you interpret it?"

The expert answered, "Love the Lord your God with all your heart, all your soul, all your strength, and all your mind; and love your neighbor as yourself."

"You have answered correctly," replied Jesus, "Do this and you shall live."

Wanting to justify himself, the expert prodded further. "Who then, is my neighbor?" he asked.

Jesus answered, "A man walked along the road from Jerusalem and came across some thieves. They had stripped him, beat him, and stole everything he had, leaving him for dead.

After a while a traveler came by and, when he saw the man lying on the side of the road, crossed over to avoid him. Likewise, another person passed by and similarly crossed the road to walk on the other side, away from the man in need.

However, a Samaritan walked by, saw the man, and immediately ran over and attended his wounds. He then placed the man on his donkey and took him to an inn to take care of him.

The next day, as the man left the inn, he paid the innkeeper and told him, 'Take care of the man that was with me, and when I return, I will pay whatever debts you incurred to take care of him. "

Jesus looked at the expert in law and asked, "Which of the men that passed by was the man's neighbor?"

The expert replied, "The one who helped him."

A special note: The Samaritan Society embraces all faiths and teachings, especially those that encourage the concept of helping, serving and supporting humanity.